Vinyl Siding Styles Colors & Options in NJ
Beautiful vinyl siding styles in NJ have different types of colors, options.
The guide and images below helps New Jersey home owners make and educated decision and chose the best option for your house
The easy installation also makes it one of the most affordable exterior veneers in the Garden State.
There are an array of vinyl siding options
insulated backed foam panels
even vinyl log cabin siding
Different Types of Vinyl Siding Styles in NJ
To top it off, it's a wonderful investment which will preserve and greatly increase the value of your home or business for years. Plus vinyl materials prices are much less expensive.
No wonder it's number one with homeowners when it's time to install house siding.
Vinyl Siding Benefits
I noticed in the North Jersey area the #1 vinyl siding styles are dutchlap and clapboard. I'll say over 75% of the vinyl homes. It makes sense because they're the most affordable siding prices.
The good news is they are gorgeous and the styles are numerous.  A professional installer knows how to add the panache to make it into a dream home.
Second place winner is vinyl cedar shake shingles. Installed properly and its a work of art. I want to stress properly installed because attention to detail is crucial.
Keep in mind, cedar cedar shake shingles are 3x more expensive than clap board panels.
Other popular vinyl styles in NJ
Images for Vinyl Siding Styles in NJ
Veritcal siding serves its purpose for certain projects. It can't be installed in all house siding types. We installed them and they look fantastic, a futuristic look and it goes well with the house architect.
However, we seen homes which didn't look pleasant at all with vertical or verticle siding. Be careful, if you have your hear set on it, than, it's okay but make sure it meshes well because sometimes, it just won't make the cut.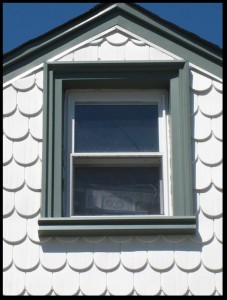 Houses with scalloped siding are aesthetically pleasing when they're installed on the right place.
I wouldn't recommend vinyl siding scallops on the entire house unless it is Victorian scalloped siding.
Put a sprinkle here and there.
The peaks of the house, dormers and certain highlighted areas. It makes a dramatic finishing touch.
Seamless Siding, it sounds good by name but there really isn't seamless siding.
Maybe there is LESS seamless vinyl siding. We installed them and they're just too expensive and time consuming to install.  This NJ vinyl siding material pricing is not worth the investment, in our opinion.
I remember one home owner told me, " I got the Cadillac of siding." Well, he got a Cadillac but he bought it for the price of a Ferrari.
When material started running out it was a nightmare trying to bring seamless siding to the work site. 25 and 16 feet long panels are available and they'll do just fine.
Beaded vinyl siding has a sophisticated look, very elegant. With the right trimmings it looks marvelous. The angles are a pain to cut with my snips but it looks marvelous.
Board & batten vinyl siding trails in. Again, this look depends on the house and the creativity of the home owner and contractor. It's installed on many garages and sheds but they look great on homes too.
I just love vinyl siding styles.