Proper Installation of Vinyl Shake Siding in NJ
Vinyl siding cedar shakes panels and the shingles installation look is highly sought by NJ home owners.  The Cetainteed and Nailite boards are loved because they have a real wood look without the expensive maintenance.
Although there are many siding manufacturers, we like using Certainteed vinyl siding colors and products.  However, we use other quality products.
Installation of  Vinyl Cedar Shake Siding Panels in NJ
How to repair vinyl shakes
Basically, vinyl siding cedar shakes is a rigid vinyl which has a seamless look which is installed with a vinyl siding saw. Trying to install wood shakes is very timely and expensive plus you have to maintain it.
Here is more information on how to apply vinyl siding. Right now, I want to explain the importance of installing this product. Once it's installed, it can be very difficult to repair or correct a bad installation and vinyl siding parts.
Therefore, make sure you have the right contractor for the job. If one shake is damaged than you'll have to remove several shakes around it because one can't be removed alone. It is such a pain to replace a damaged piece. NJ homeowners will feel it in their pocket book.
To replace standard dutchlap or clapboard siding panels is simple with a vinyl siding removal tool. Removing the damaged vinyl siding problems is a breeze because the nail slots allow flexibility for the panel to move up and down.
However, there is no flexibility with vinyl cedar shake siding. Once it is applied, they're locked in. We always double and triple check with our vinyl siding applications because they can easily be detected if they're improperly installed.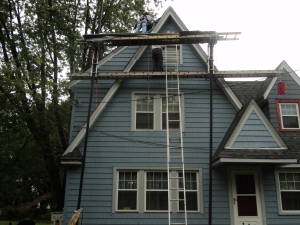 As I said before on the website, popular siding brands are producing great products so you don't have to be stressed selecting one for your home and investment.
Vinyl Cedar Shake Shingles Look in NJ
A water hose is your main tool for keeping vinyl clean
Just get some vinyl siding cleaners, you can even make your own homemade vinyl siding cleaner and maintain with a cloth and water hose. Depending on the location of your house, some people clean their siding every two years or every six years, no problemo.
Do you have to tear off the old siding?
The answer is no. We installed many homes with vinyl shakes and didn't have to remove the old siding. However, we remove old vinyl siding but all other exterior can stay. It's a great saving, the extra labor to tear off the old facade, pick it up from the ground, cleaning up and throwing it in a dumpster will jack the price up. Plus, the added dumpster charge.
There are homeowners in New Jersey who want to tear everything off and go straight to the plywood. It's not always necessary but it's your choice.
Certainteed Vinyl Shake Shingles Contractors in NJ
What is the most important aspect of vinyl shakes
You must have the right contractor and the contractor must have the right installers who care about their work. I worked with some siders who did excellent jobs in the past. However, there jobs are not always up to par, for whatever reason.
This is where a good contractor comes in play. They must have the workers always producing quality work. You have to motivate them and explain the importance of quality.
Most of the times the guys listen but there are times when you just have to kick some butt.
Don't get me wrong, many construction people are great but they could be really scary and intimidating at times.
Therefore, you need leadership to make sure vinyl siding cedar shakes is properly installed on your home and investment. It takes leadership and a happy crew to give you the best quality job you deserve.