Roofing and Siding Contractors Hackensack, NJ
How to Find the Best Roofing and Siding Contractors in Hackensack, NJ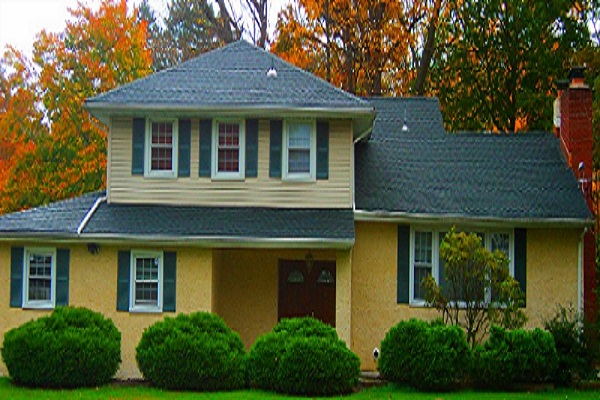 Many people are looking for the best Roofing and Siding Contractors in NJ. Obviously we don't give you wrong since they are many roofers and siding companies doing poor quality work for a cheap price. They say you get what you pay for. However we at NJ Discount and Siding company would give you the best price with quality and professional work. As you can see on our website we have produced photos of work we have done to the satisfaction of our customers. Now when you're are looking for the best Roofing and Siding Contractors in Hackensack, New Jersey please adhere to the following checklist below
1. What is the full name and address of the company? This will verify that the company is credible.
2. Does the company carry insurance? Contractors should carry both comprehensive liability insurance and workers' compensation to protect you as the homeowner in the event that an accident occurs.
3. Is the company a licensed or credentialed contractor? Although not all states require licensing, it is a good indicator that the contractor is knowledgeable and dedicated.
4. How long has the company been in business? The longer the company has been in business, the better; the lifespan for most small businesses is three years.
5. Will the company provide referrals or references from previous jobs? Ask for a list of names and phone numbers of previous employers and try to get photos of the roofer's completed work.
6. What is the company's workmanship warranty? Warranties that cover the installer's work should typically cover a minimum of a one-year time span.
7. What is the company's track record for solving customer complaints? Request a referral from a job that involved a complaint. This will show the homeowner how the contractor handles problems when they do arise.
NJ Discount and Siding Company does all roofing, siding, home remodelling, windows, doors and stucco work in Hackensack, NJ. We are even featured on Houzz as a professional and honest construction company.
Roofing and Siding in Hackensack, NJ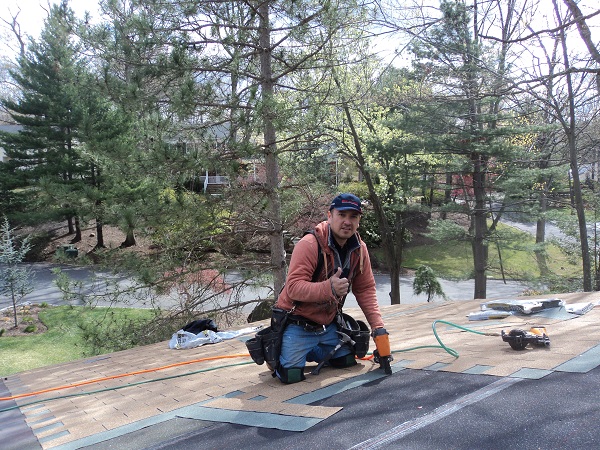 The roofing and siding is very important for your house if you live in Hackensack, NJ. With regular maintenance and some care most roofs will have a considerable life of 15 years or more, but regardless of how careful you are in looking after your roof you will inevitably need to have a new roof fitted one day and it can cost a lot of money. However, your roof and siding provide an invaluable service to you, the house itself and the contents within it so it is important that you do not compromise the quality of your new roof and siding projects by taking the cheapest quote around. The key is to shop around as much as possible. Get a free estimate from numerous roofing and siding companies in Hackensack, New Jersey and make sure that you are comparing them on a like for like basis to get the best idea of which quote suits your needs.
It is always important to do your research, especially if you know little or nothing about roofing or siding. When you request a free roofing and siding estimate you want to be able to do so with confidence that you know what you are asking for. Searching the Internet will usually yield impressive results for your research and you can always ring a roofing or siding contractor in NJ to ask a few questions; they will normally be glad to help in the hope they will be invited to work on the project. Try to research as much as possible regarding the potential materials and some basic building techniques that may be employed.
Roofers and Siding Repair in Hackensack, NJ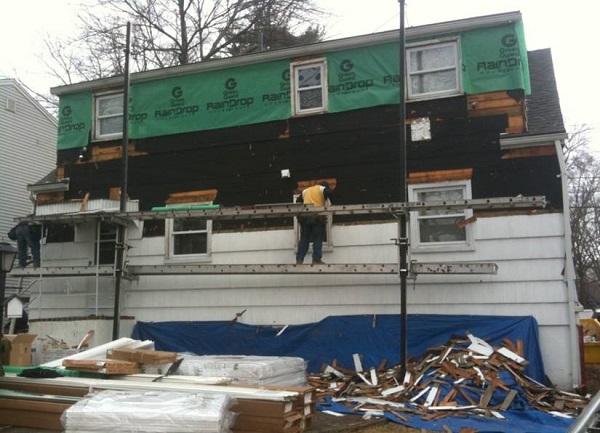 Curling or cracked shingles. Leaks in the ceiling. Too many asphalt granules in the gutters. Your siding is torn apart due to Sandy or any heavy storm or wind? Any one of these telltale signs can mean it's time to replace your home's roof or get a siding repair job done. So where do you start? With a reputable roofer and siding contractor in Hackensack, New Jersey. Now there are many roofers in NJ and siding contractors but which one to choose. As you can see we have outline some very important pointers above to follow. Nevertheless we would highly recommend ourself first as we have a proven track record and customers satisfaction to provide the best roofing repair and siding repair in Hackensack, NJ.
Here are some reasons why you should choose us —
1. Were local and always within reach of all our customers.
2. Our local reputation developed throughout the years is of greatest importance to us.
3. Were small owner operated family business, with low expenses, which means great savings for you.
4. We provide the same quality material and warranties as the big boys without breaking your bank.
5. Construction is in our family blood, its all we have ever done, we really care about our jobs and our neighbors.
Also we would appreciate if you can spread our name and service around to your family and friends after you hire us to do your job. This way you will already know NJ Discount Siding Company capabilities so you would want you friends and family to have the same quality work done on their houses too.
New Jersey, Hackensack Roofing and Siding Contractors
A reputable New Jersey, Hackensack roofing and siding contractors can be difficult to find. Word of mouth is one of the most effective ways of finding good roofers and siding contractor in NJ. Before hiring a someone, it is always wise to get recommendations from friends or family. Whether or not you have recommendations, get several quotes before determining the company to hire. A quote should be detailed and include the work to be done, cost, and time-frame for completion. Be sure clean up is included in the quoted price. If you want to save some money, offer to do the cleanup yourself.
Ask the New Jersey, Hackensack roofing and siding contractor how long they have been in business. Roofers and Siding Repairers with many years experience are preferable. Also, make sure they have a physical address. Many scams are conducted by people working out of a truck with no valid business license or permanent address or even illegal immigrants. Ask for references and check them. The company should be properly insured. Ask for proof of insurance to be sure you are protected from any damage to your home.
Roofing repairs and siding repairs may require specific building permits. Make sure the company you work with is familiar with local building codes and that they obtain proper licenses or permits. Most locations also require inspections during certain phases of construction and a final inspection when the work is complete. Check your local building codes to ensure the roofer is complying with all regulations. You may be liable if this does not occur.
Before starting the project get a contract. This should include all the details of the project, time frame for completion, and price. It should clearly outline payment policies and warranties. Read the warranty carefully to make sure you are adequately protected. Also, be sure the contract states they are responsible for clean up. Roofing and siding materials can be very messy and you do not want to have to clean up and dispose of waste yourself. But keep in mind you can save yourself some money if you choose to tackle the cleanup process yourself.
Never be rushed into hiring a New Jersey, Hackensack roofing and siding contractors. Take the time to interview potential roofers and check experience and references. Roofing repairs and siding repairs can be expensive and a new roof or siding is a major investment. Protect your home by doing some research. Hire NJ Discount Siding Company who has the best combination of experience and price and with whom you'll feel most comfortable.