Affordable Stucco and EIFS Installation Contractors in NJ
Looking for a professional and affordable stucco (EIFS) installation contractor in NJ?    You are at the right place.
Stucco is a great investment for both commercial and residential projects due to its attractive appearance and the low maintenance. Maintaining stucco is easy and requires very little effort and time.
NJ Affordable Stucco and EIFS installation contractors
If dirt or other debris accumulates on the wall, simply hose it with low pressurized water and scrub with a soft brittle brush. We specialize in both traditional hard coat stucco and synthetic stucco, also known as EIFS. We install all types of stucco work for all project.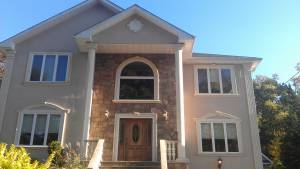 This includes new construction, additions, remodels and repairs for residential, commercial and government big and small.
We can also do projects such as mail boxes, garbage enclosures, light posts, custom signs, walls, outdoor kitchens, columns, balconies and window and door trims.
Applying stucco is an art that requires patience and a fine eye for detail in order to achieve magnificent results.
___________________________________________________________________
NJ Discount Stucco and EIFS Companies in New Jersey

Traditional Stucco
Traditional stucco, also known as hard coat stucco, is a centuries-old wall cladding system that is made from a mixture of Portland cement, lime, sand and water. Acrylics and fibers are added to add strength and help prevent cracks. Traditional stucco will consist of three layers:
The inner layer known as the scratch coat.
The middle layer known as the brown coat, which after being applied is leveled into a smooth surface with a darbie. Wire mesh, or "chicken wire," is added to reinforce the stucco. The brown coat is then allowed to cure for at least several days.
During this stage if the weather is very hot and dry, water will be sprayed onto the stucco to add moisture and ensure the stucco completely cures.
The exterior layer called the finish coat.
___________________________________________________________________
Synthetic Stucco (EIFS)
EIFS, which stands for Exterior Insulation and Finishing System, is also known as synthetic stucco. It is highly valued for its elegant appearance and insulation value, known as R-value. EIFS can reduce air infiltration by as much as 52% compared to traditional stucco, wood siding and brick. EIFS can come in 3 main types of foam each with its own R-value.
EIFS Type
R-value
• 1″ Foam 3.8
• 2″ Foam 7.5
• 3″ Foam 11.2
This added insulation that EIFS provides to the structure is highly appreciated especially by commercial projects and can significantly reduce heating and air conditioning bills.
Compare Stucco and EIFS Designs in NJ
EIFS is largely demanded by commercial projects also because of its light weight, which is particularly important for tall structures. EIFS will consist of three layers:
The inner layer made of a foam insulation board.
The middle layer known as the base coat. Fiberglass mesh is added to reinforce the stucco.
The exterior layer called the finish coat.
EIFS can also be reinforced with an additional layer of both base coat and fiberglass mesh to improve its resistance to impacts.
In addition to reducing energy consumption, its visual appeal and its light weight, EIFS also has the benefit that it can be crafted into various shapes and designs, such as keystones, bull noses and trims. It is this ability of EIFS to add architectural elements to your home that also makes it very desirable. It also tends to crack less than traditional hard coat stucco.